Jacqueline Peretz, LMSW
New York Coordinator


Jacqueline Peretz received her MSW from Fordham University in New York and holds a BSW from Wheelock College in Boston. She has known she wanted to be a social worker since she was 12 years old. Jacqueline's professional experience ranges from working with mental and criminally insane, developmentally delayed, adolescents in residential care and maximum secure detention, as well as senior citizens.


To discuss employment opportunities or staffing needs, Jacqueline can be reached at 914.637.0442 or This email address is being protected from spambots. You need JavaScript enabled to view it.



Of Interest
Recognizing the Need For School Social Workers
We encourage you to read this interview with Samantha Boatwright, a licensed clinical social worker who works with public school kids in Georgia. Those in these roles are stretched thin providing much needed mental health services to kids around the country.
In this article, Boatwright shares how she's hoping to help families struggling to understand mental illness in children and why working with children on their mental health is crucial for development.
---
Why Companies Need Social Workers
Social workers can fill a variety of roles for companies, but as researchers are finding employing social workers for employees' mental health can increase overall performance. Having social workers on staff can also help keep management's decisions in check with ethical guidelines and evolve HR departments. Read this great article to learn more about why companies need social workers.
---
Informational Meetings
If you are interested in learning more about Social Work p.r.n., please join us for our Informational Meetings at our office. These meetings are held on the third Wednesday of the month at 11:00 a.m,
To RSVP to an upcoming meeting, please email This email address is being protected from spambots. You need JavaScript enabled to view it..
---
New York Coordinator mentored New York City College of Technology student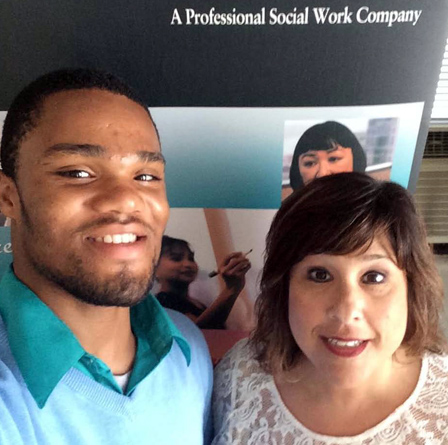 Jacqueline Peretz, New York Coordinator, mentored Daniel Young, a student at New York City College of Technology. In Daniel's Human Services class, he was asked to visit a social service agency to see how it operated. He found Social Work p.r.n. and contacted Jacqueline to discuss what it takes to be a social worker.
Daniel became interested in social work because he loves working with people and he wants to help people recover from different diseases. Jacqueline was happy to see how excited Daniel was, realizing he could make a difference in other people's lives as other people had made in his.
Daniel's assignments for his Human Services class included a paper and presentation on what he learned during his meetings with Jacqueline. Along with helping with those assignments, Jacqueline offered suggestions on how to prepare for a career in social work.
Through Jacqueline's mentoring, Daniel learned social work is a very dedicated career, and is much more than simply talking to people.
After meeting with Jacqueline for three months, Daniel was inspired to pursue a Master's in Social Work and he is excited to take the licensing exam in the future.
---